Monday, February 20, 2012 / by Justin Hoffmann
It may not be 1600 Pennsylvania Ave., but the presidential candidates reside in some pretty nice digs. Here's a look at where they live -- at least, for now.
Mitt Romney
Location: La Jolla, Calif.
Estimated value: $9.6 million
Out of all of the candidates, former Massachusetts Gov. Mitt Romney owns the most real estate, including a townhouse in Boston and this beachfront home in La Jolla, Calif.
Romney bought the home in May, 2008 for $12 million, according to public records. Now, he is planning a massive overhaul of the place.
The Spanish-style home is on a cul-de-sac with direct access to the beach. There are plenty of luxury features like a secluded patio with a lap pool, spa and a chef's kitchen.
Zillow currently values the home at $9.6 million, but that's about to change. Romney has filed an application with the city to tear down the 3,000-square-foot, single-story property and build a more than 8,000-square-foot, three-story home, according to the city of San Diego's development services department.
Romney's House in Lake Winnipesaukee, NH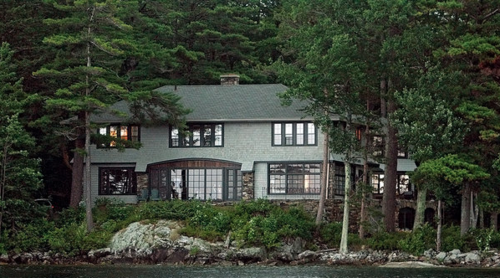 Jon Huntsman
Location: Washington, D.C.
Estimated value: $3.3 million
The former Utah governor and ambassador to China already calls the nation's capital home. Jon Huntsman purchased this handsome house in June 2010 for $3.6 million, according to public records. That was a steep discount from its original $4.5 million asking price.
The 5-bedroom, 4-1/2-bath brick townhouse, built in 1911, is in the spiffy Kalorama neighborhood in northwest D.C. It has been fully renovated in keeping with its original Federal style.
There are traditional details like crown moldings and coffered ceilings throughout the home, but also modern amenities like a state-of-the-art kitchen with stainless steel appliances and large master bathroom.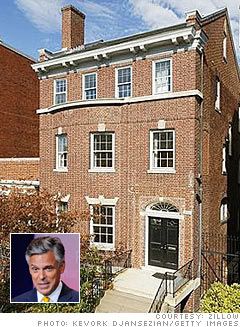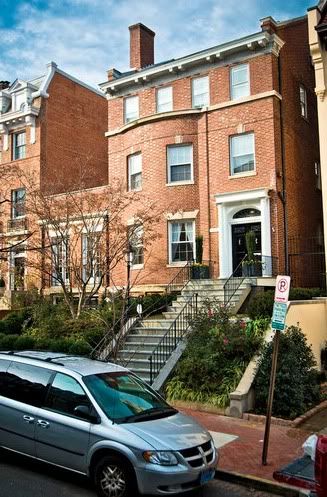 Newt Gingrich
Location: McLean, Va.
Estimated value: $1.3 million
The former House Speaker bought this 5,206-square-foot house in May, 2000 for $995,000, according to public records. The two-story home was built in 1987 in McLean, Va., a high-end suburb of D.C. There are 5 bedrooms and 4-1/2 bathrooms on just less than half an acre.
The brick Colonial-style house turned out to be a decent investment. The home is currently valued at $1.3 million, 30% higher than the purchase price, according to real estate site Zillow's market analysis.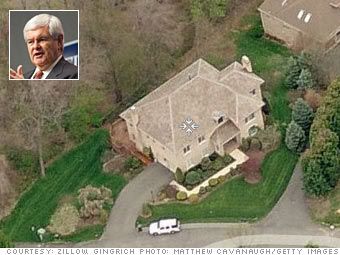 Rick Santorum
Location: Great Falls, Va.
Estimated value: $1.3 million
The former Pennsylvania senator lives in Great Falls, Va., just 30 minutes outside of D.C. Santorum bought this 4,900-square-foot split-level home in August, 2007 for $2 million, according to public records. The home includes 4 bedrooms, 5 bathrooms, a cobbled drive and a heated pool on 5 acres.
Despite the large size of the property, Zillow currently values the home at $1.3 million, 35% below the purchase price.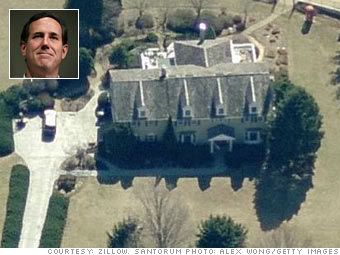 Rick Perry
Location: Austin, Texas
Estimated value: $869,800
The Texas governor has been renting this home in Austin while the Governor's Mansion, where he was living since December 2000, undergoes extensive renovations (it was badly damaged in a 2008 fire).
This 5,800-square-foot home has pecan hardwood floors, a gourmet kitchen with granite countertops and a Sub-Zero refrigerator, an outdoor kitchen and a pool on 3 acres of land, according to Zillow.
But the governor and his wife won't be enjoying these amenities for much longer. Renovations on the Governor's Mansion, which are estimated to cost more than $20 million, are expected to be completed this June, according to Friends of the Governor's Mansion, a non-profit organization.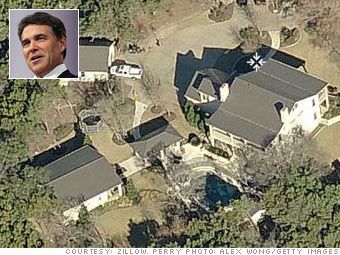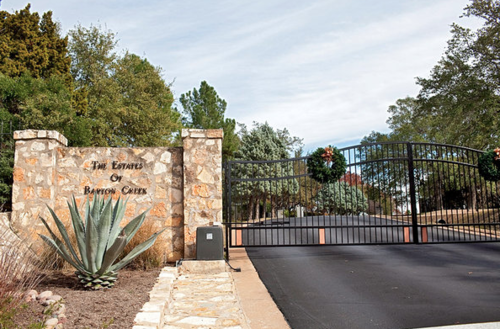 Ron Paul
Location: Lake Jackson, Texas
Estimated value: $262,500
Texas Rep. Ron Paul, is currently selling his Lake Jackson home 50 minutes outside of Houston. He first announced the sale on his Facebook page on April 14, directing people to BuyRonPaulsHouse.com.
The house, built in 1958, has 4 bedrooms, two of which have loft spaces, 5 bathrooms, a large office with built-in bookshelves, a formal dining room, living room, family room and a craft room. Outside, there is a large swimming pool and patio on nearly half an acre.
According to his listing, this is "a great house and a great piece of history. Ron and Carol lived there for 42 years, lots of great memories in this house. Generations of Liberty loving kids have grown up here, and you can continue the tradition."
Paul is asking $325,000, although Zillow currently values the house at $262,500.
By Jessica Dickler
Visit Source