Saturday, January 7, 2012 / by Justin Hoffmann
The latest Mortgage Monitor report released by Lender Processing Services, Inc. (LPS) presents the kind of mixed message that is now commonplace among the various delinquency reports, foreclosure summaries, home price indices, and housing forecasts that fill our inbox. At the end of November, mortgage delinquencies were down 25 percent from the peak in January 2010. At the same time, delinquencies which had steadily trended downward since July jumped 2.7 percent from October to November to a rate of 8.15 percent. This rate, however, is down 9.6 percent from the 9.02 rate of November 2010.
At the same time, new problem loans - those loans seriously delinquent as of the end of November that were current six months prior - have not improved significantly in the last year. LPS says this degree of stagnation indicates that while the situation is not getting markedly worse, it is not improving either, and inventories of troubled loans remain significantly higher than pre-crisis levels across the board.
Foreclosure starts, both new and repeat, totaled 165,205 in November, a decrease of 29.1 percent from the 232,865 recorded in October and a 36.3 percent change from November 2010. LPS says this is indicative more of the impact of ongoing document reviews, additional state legislation and new regulatory requirements rather than an actual improvement in conditions.
The November foreclosure rate was 4.16 percent and the total of seriously delinquent or in foreclosure was 7.72 percent. In comparison, in October these figures were 4.29 percent and 7.70 percent and in November 2010 4.08 percent and 8.17 percent respectively.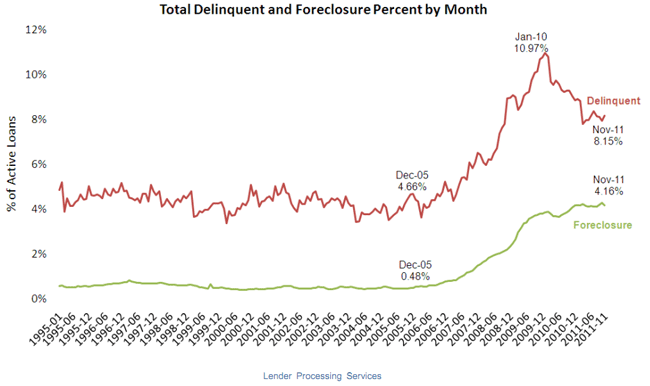 While no explanation was given, the numbers of loans rolling back from foreclosure to 90+ day status hit an all time high.
Foreclosure inventories declined during 3 percent in November but the declines were among those loans less than 24 months delinquent and could be accounted for to an extent by the roll-back mentioned above. Inventories of loans that had been delinquent for 2 or more years and in foreclosure rose by 2 percentage points, probably reflecting the inventories in judicial foreclosure states where inventories are 2.5 times as large as in non-judicial states.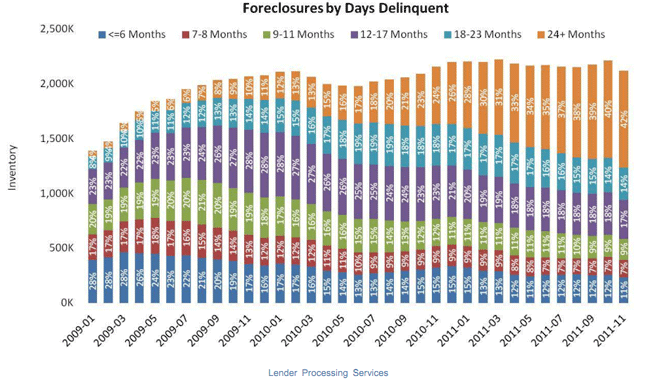 Prepayment activity - a key indicator of refinances - remained strong after several consecutive months of growth; however the October origination data showed a month-over-month drop of nearly 12 percent. While still the second highest level for the year, originations through October 2011 were down 21 percent vs. the same period in 2010 and down almost 30 percent vs. 2009.
The states with the highest percentage of non-current loans including delinquencies and foreclosures were Florida, Mississippi, Nevada, New Jersey, and Illinois.
By Jann Swanson
Visit Source